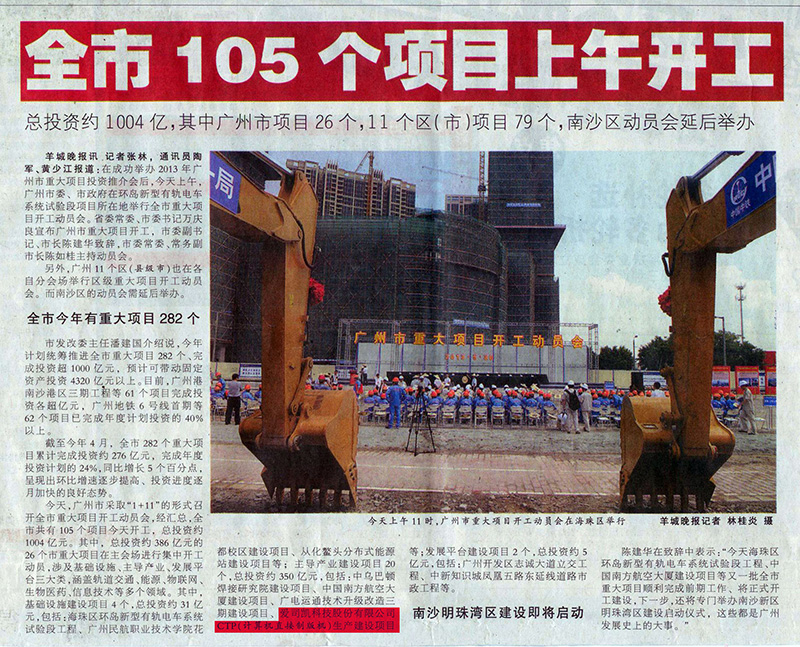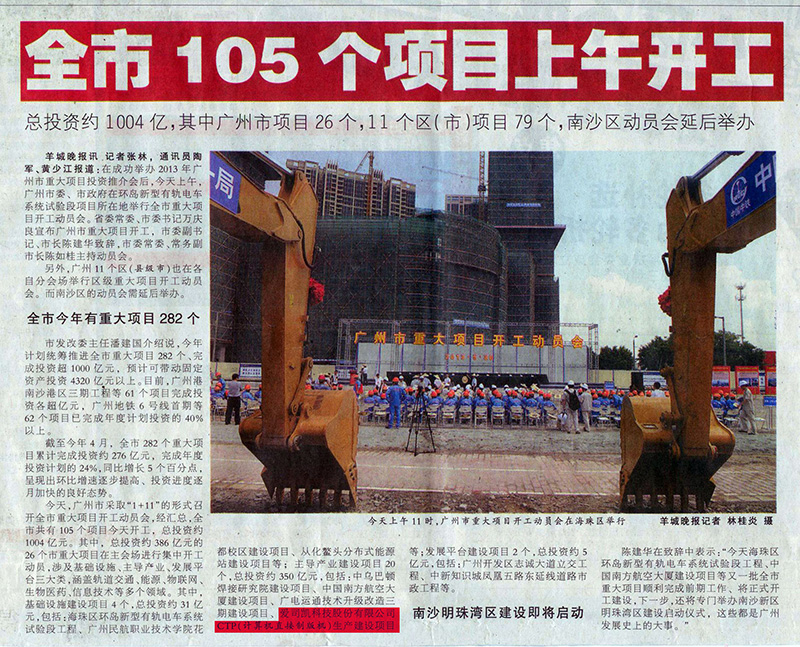 Yangcheng Evening News —— Following the successful investment roadshow of Guangzhou's major projects, the municipal party committee and municipal government held a launch meeting for the major projects this morning at the construction site of roundabout tramcar system pilot project. Wan Qingliang, member of provincial standing committee and municipal party secretary, announced the launch of the major projects of Guangzhou. Chen Jianhua, deputy party secretary and major, made a speech. Chen Rugui, member of municipal standing committee and executive vice mayor, presided the launch meeting.
At the same time, the meeting was also held in another 11 districts or county-level cities.
Today, the meeting is convened in the form of "1+11". In sum, there are 105 projects to be launched with total investment of RMB 100.4bn. 26 major projects with total investment of RMB 38.6bn are concentrated in the main venue to launch, relating to infrastructures, leading industries and development platform and covering many fields, such as rail transit, energy, Internet of things, biological medicine, information technology, etc. Among them, the projects of infrastructures are 4 with total investment of RMB 3.1bn, including the roundabout tramcar system pilot project of Haizhu District, the Huadu campus construction of Guangzhou Civil Aviation College, the distributed energy station construction of Aotou, Conghua, etc. The projects of leading industries are 20 with total investment of RMB 35bn, including the construction of Barton Welding Institute of China and Ukraine, the building construction of China Southern Airlines, the phase III of technological upgrade of GRGbanking, the CTP project of Guangzhou Amsky Technology Co., Ltd. The projects of development platform are 2 with total investment of 500mn, including the interchange project of Zhicheng Avenue and the municipal engineering of east extension of Phoenix Five Road of Zhongxin Knowledge Center.

Next:
Гуанчджоу запускает 105 больших проектов, включая проект Amsky —— новости Guangzhou Daily
Pre:
Гуанчджоу запускает 105 больших проектов, включая проект Amsky