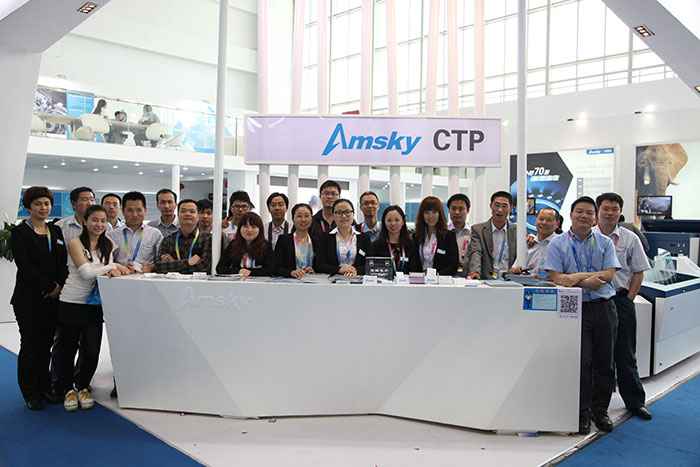 Group shot of Amsky's exhibition staff
The 8th Beijing International Printing Technology Exhibition (China Print 2013) was held in the New China International Exhibition Center of Beijing on May 14th to 18th, 2013. The five-day event attracted business colleagues from printing and equipment industry all over the world. Amsky made great success on this exhibition with many orders signed, purchase intention achieved and some international agents developed.
Among the crowds on the scene, customers came one after the other to inquire Amsky's products. Amsky's service engineers made an on-spot demonstration on the working process of CTP and answered the technical problems of customers. Apart from the sales representatives of Amsky, agents at home and abroad took this opportunity and sent more than 30 sales representatives to provide thorough services for customers to understand the device. Their arduous work promoted the successful completion of sales target and made Amsky's exhibition more than expected.
With the theme of Define New User Experience, Amsky dedicated to enhance the user experience of CTP while showcasing Amsky's products and introducing advanced technology.
On the exhibition, Amsky showcased a variety of devices applicable to many industries, such as the recently-developed high-speed Aurora U8128N CTP, the 256-channel Aurora UV CTP featuring the latest technological achievements, the Ausetter V 5569 U VLF CTP, the cost-effective Ausetter 848T CTP and high-performance MAT800 multiple-cassette Autoloader.
Among them, 256-channel Aurora UV CTP featuring the latest technological achievements adopts the world's leading rectangular lattice technology for better fidelity and higher sharpness. The high-performance and high-speed Aurora U8128N CTP can meet the needs of newspaper printing companies and other companies with large printing needs by seamlessly integrating with MAT800 multiple-cassette Autoloader. The Ausetter V 5569U CTP with very large format can meet the demands of large books, catalogues, yellow pages and packaging. The classic Ausetter 848T CTP is the most popular mode with the largest sales.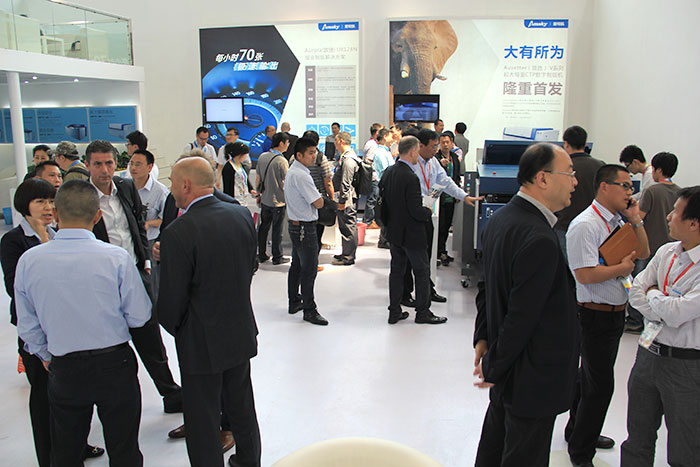 The scene of Amsky booth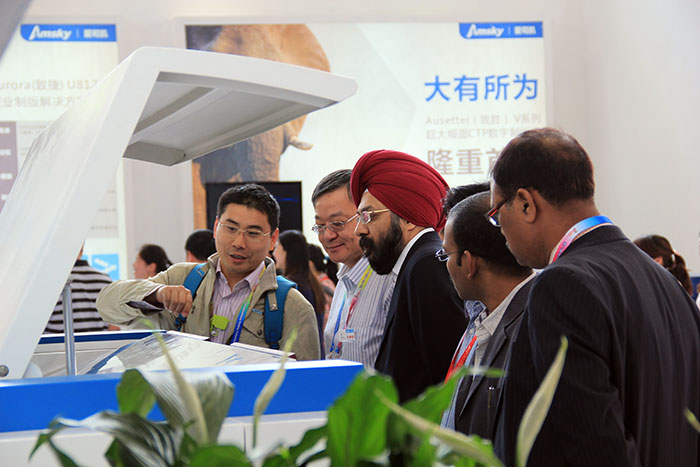 An engineer is introducing VLF CTP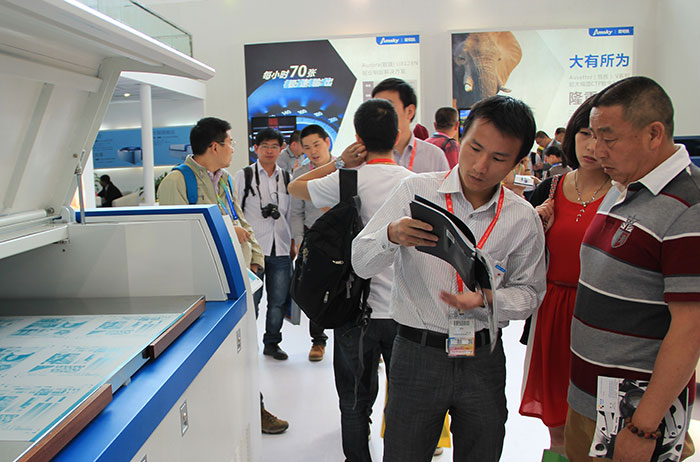 A sales representative is servicing customers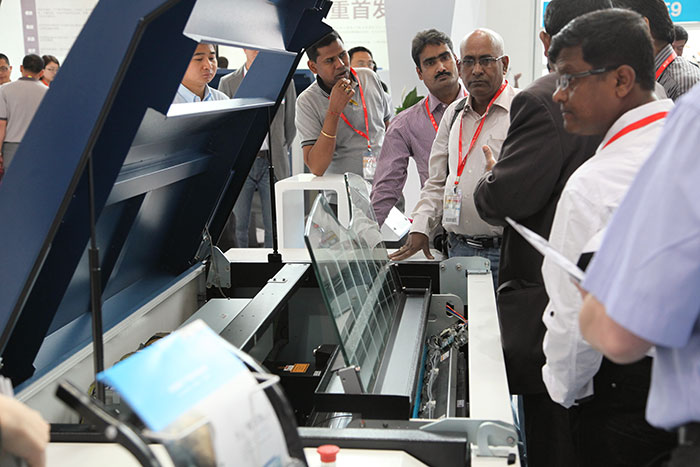 The classic Ausetter 800 Series is very eye-catching
Next:
Amsky - лидер CTP-индустрии Китая
Pre:
Гуанчджоу запускает 105 больших проектов, включая проект Amsky —— новости Guangzhou Daily